Mary Flanagan – Artist Talk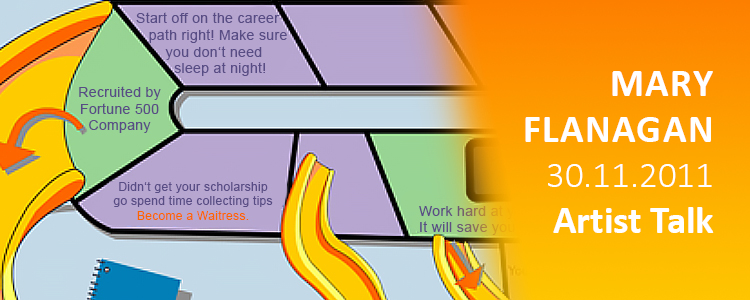 Mary Flanagan, Medienkünstlerin und Spieleforscherin hielt einen Vortrag Mittwoch, 30. November 2011 im grossen Studio der HfG Karlsruhe. Mit dem Thema "Playful Systems" berichtete Sie über Ihre eigene künstlerische Arbeiten und Ihre Forschungen auf dem Gebiet der Games Studies. Flanagan verbindet in ihren Arbeiten künstlerische Praxis mit kultureller Forschung. Sie schrieb mehr als 20 kritische Essays und Buchkapitel zu digitaler Kunst, Cyberkultur, Computerspielen und verantwortungsvollem Design geschrieben. Mit Ihrem neuesten Buch, "Critical Play" wirft sie einen kulturhistorischen und zugleich künstlerischen Blick auf "Spiele". Dabei spricht sie diesen die Fähigkeit zu, Routine, Gewohnheiten und Normen zu hinterfragen und somit ein breiteres Spektrum der Spielerfahrung und der Gesellschaftsforschung hervorzubringen. Die Veranstaltung wurde per Live-Stream übertragen.
_ _ _ _ _ _ _ _ _
    English version
Mary Flanagan, media artist and game researcher had a lecture on  Wednesday, 30th of November 2011 in the big studio of the HfG Karlsruhe. With the subject "Playful Systems" she reported about her own artistic works and researches in the area of the Games Studies. Flanagan connects artistic practise with cultural research in her works. She wrote more than 20 critical essays and book chapters to digital art, cyber culture, computer games and responsible design. With her newest book, "Critical Play" she looks at "plays" with a cultural-historical and at the same time artistic look. Besides, she awards them with the ability to question routine, habits and norms and to produce therefore a broader spectrum of the play experience and the society research. The event was transfer by Live-Stream.
---